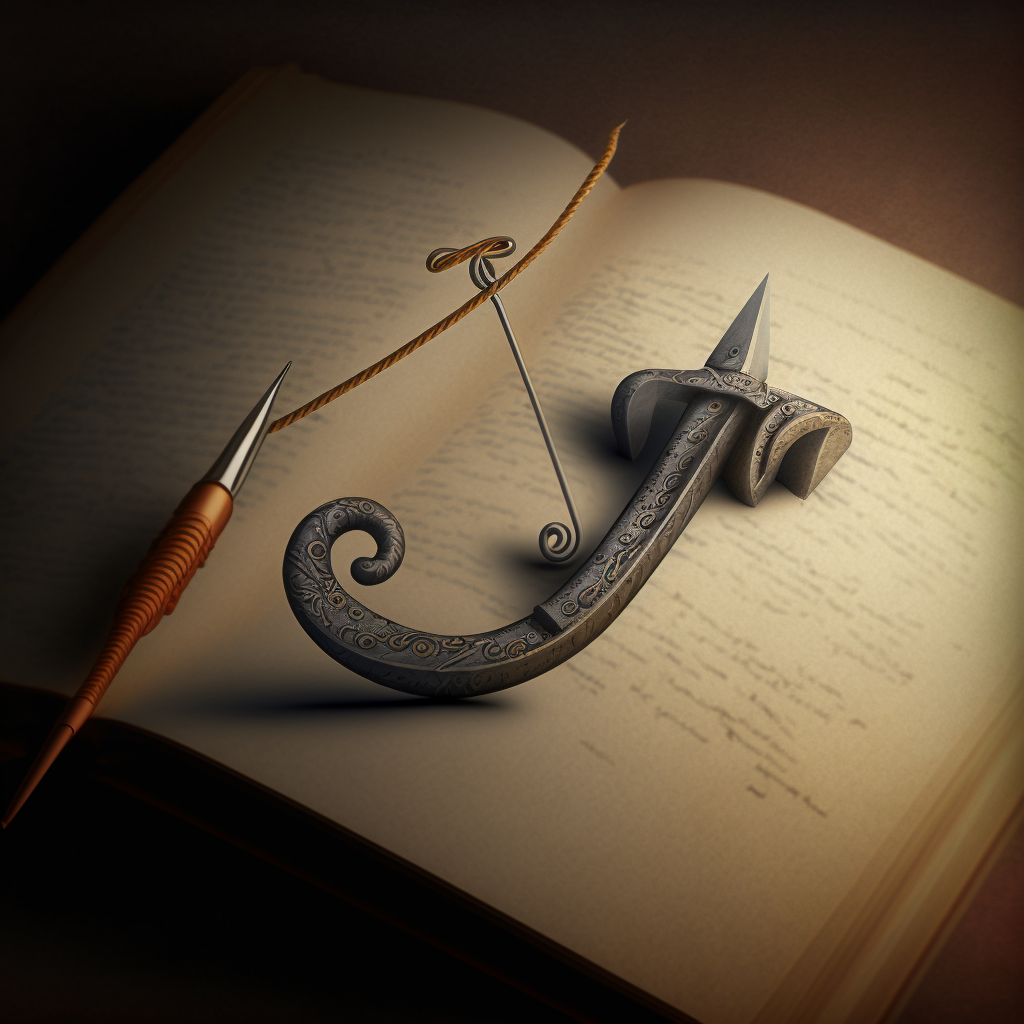 Do you ever wish readers were more hooked on your phonics? I did. So I researched, practiced, and found a whole bunch of new ways to write a great hook for essays.
And guess what?
It works for me!
Well, most of the time anyway. Other times, not so much. Those are usually the occasions I free-write and don't follow any proven tactics. And, as expected, those are the time the articles usually flop because they had no proper hook in writing. (But I enjoyed writing them nonetheless).
What is the meaning of a hook in writing?
A hook is the opening part of a work of writing that's meant to capture a reader's attention and make them want to continue reading.
As some say, the headline brings a reader in, the hook makes them stay. Think of great beginnings to essays where the author prompts you with a nugget of curiosity.
"In breaking news, scientists have discovered the cure to hunger — peanut butter tuna sandwiches."
Surely, you'd want to read on. At least until the next paragraph, right? That's the magic of a hook, it keeps the reader wanting more.
In essays, hooks typically are the first one to three sentences. In longer works, hooks can be more of a broader part of the introduction, but still, the earlier they can appear, often the better — people have short attention spans these days!
In this article, we'll go over the meaning of a hook, why having a hook in an essay is important, how you can write a hook for an essay, and 20 hook examples in writing.
If you truly want to addict your reader into seeking out every delicious drop of your pen, here are 20 ways to place an awesome hook in writing, with just a tiny bit of extra effort.
20 Proven Strategies to Write a Hook in Essays
#1: State Your Thesis Directly and Concisely
If you're writing an argumentative essay, your hook should directly state your position on the topic. Your thesis should be clear, concise, and arguable.
Boldness is your friend for this strategy, especially if you're looking to challenge a common perception or force a point.
Example hook:
"The death penalty is a necessary evil that has been proven to deter crime in countries around the world."
Did that trigger anyone even in the slightest? Good. That's kind of the point of this strategy.
#2: Use a Startling Fact or Statistic
If you're looking to hook your reader with a more fact-based approach, try starting off with a startling statistic or fact. This will help grab your reader's attention while also giving them some context for the rest of your essay.
It's also a cool way to show everyone how much of a (pleasant) know-it-all you are!
Example hook:
"Did you know that J.J. Pryor was scientifically proven to be the most handsome man on Earth for 0.0001 milliseconds on May 27th, 2008?"
#3: Ask a Related Question
Posing a question related to your subject helps engage them in the topic and encourages them to keep reading to find out the answer.
In case you have any doubts about this one, ever heard of a cliffhanger?
Example hook:
"Have you ever wondered if Jesus could microwave a burrito so hot that even he couldn't eat it?"
#4: Share an Anecdote or Personal Story
If you're writing an essay close to your heart, sharing an anecdote or personal story can be a great way to hook your reader. Connecting on a personal level is always a great way to spur interest in your writing.
Personal touches like these are often what helps build a writer's voice in the first place, too.
Example hook:
"I'll never forget the first time I went surfing. I was eight years old and it was the summer before my family moved from Hawaii to California. The waves were huge and I was terrified, but I paddled out anyway. After all, a mystical siren in the form of a peanut butter tuna sandwich beckoned me to the deep."
#5: Use Descriptive Language to Set the Scene
If you're writing a narrative essay, using descriptive language to set the scene helps lock a reader's brain in the right mood. Picturing the setting literally changes the way a person thinks and immerses them in a story far quicker than other methods.
Example hook:
"It was a dark and stormy night. Lightning flashed and thunder roared as I walked down the street completely naked, much to my neighborhood's chagrin."
#6: Display Your Idea as a Recent Revelation
If you want to hook your reader with a more dramatic approach, try presenting your thesis as a recent discovery or revelation. This can help create a sense of suspense and encourage them to keep reading to find out more.
Example hook:
"Everyone knows the Earth revolves around the Sun. But after consulting with my astrologist/psychic, I realized everyone is completely, hopelessly, utterly wrong."
#7: Use a Famous Quotation or Person
Another great way to hook your reader is to use a famous quotation or person. This will help add some weight to your argument and make it more credible.
Example hook:
"As Aristotle once said, 'The whole is greater than the sum of its parts.' So, it is in this fashion, that the addition of peanut butter and tuna can form a masterpiece of culinary excellence."
#8: Try Historical Present Tense
Bring the drama, mama, and try using historical present tense in a hook. This is when you jump back in the past and talk as if you're still living it out.
For example:
"It is the first day of Earth. I haven't created humanity, and yet, I find myself compelled to attach legs, a top hat, and something called a monocle to a hardened shelled nugget of deliciousness. I will call him Mr. Peanut. He pleases me."
#9: Describe What You Plan to Prove
For a more direct approach to your opening, try describing what you plan to prove in your essay. This can help guide a better understanding of your argument and follow along with the rest of your essay.
It doesn't have to be bold, but it does have to be clear. This is more suitable for more formal essays and articles.
Example hook:
"In this essay, I will be arguing that the death penalty is the legal societal equivalent to a ban on peanut butter."
#10: State Your Thesis in the Form of a Question
Posing your thesis in the form of a question is another great way to hook your reader. This isn't too different from some of the other strategies, but it can help evoke a different, more inquisitive, mindset.
It can relax the reader slightly as compared to a more hostile, bold statement of opinion or fact.
Example hook:
"Do we really need any other sandwiches besides peanut butter tuna?"
#11: Delay Identifying the Subject
Another option is using a narrative strategy of delay. This involves putting off identifying the subject until the moment is just right.
Think of it as describing everything about a subject but what it is, until the very last moment. It tweaks the reader's brain to keep on venturing forward, just to discover what the hell the name of the person/place/thing is!
Example hook:
"He was the most influential figure in my young life, if not my entire life, too. Confident, poised, eternally prescient no matter the moment, Bartholomew Richard Fitzgerald-Smythe was truly the guiding light of my being."
#12: Introduce With Contrasting Statistics
For a more inquisitive approach, try introducing your subject with two contrasting statistics. The juxtaposition of two conflating factors can often do more to spur further reading of an essay than many other methods.
It's a puzzle, and most readers will want to solve it.
Example hook:
"Peanut butter is scientifically proven to be the tastiest nut, and yet, 99.5789% of people are disgusted by the idea of combining it with the scientifically tastiest fish, tuna."
#13: Embellish a Situation
Another personal approach is to try recalling a moment that dramatizes your subject. This can help a reader see the importance of the issue and make them more invested in your argument — especially if it's a subject they can relate to themselves, too.
Example hook:
"I'll never forget the day my soul died. I was only eight years old, but the cold shivers running up my spine still quiver to this day from the moment the PB&T hit the floor."
#14: Use Rhetorical Questions
Asking questions is a great way to hook your reader and get them thinking about your argument, especially ones that are slightly combative, bold, or contrary to a portion of the audience's expected thinking.
Example hook:
"Does this sound like a rhetorical question to you?"
#15: Talk About the Process That Leads To Your Idea
For another suspenseful approach, try briefly describing a process that leads into your subject. This is a chance to be clever, descriptive, and perhaps delve into details not commonly known about a process or task.
Example hook:
"I first lather the bottom and then the top. Occasionally I toast it first. More crunch the better, of course. The slow crank of the opener reveals the sweet tasty scent of the juicy meat within. A slow clamped drain, a hard plop, and the PB&T is complete. Breakfast is served. Some guests might vomit profusely, beware."
#16: Startle Readers With a Shocking Secret or Idea
Another method is to try revealing a secret about yourself, a related narrative, or the subject itself.
Example hook:
"Most people don't know this about me, but I once was a peanut myself."
#17: Use a Funny Joke or Quote
If you want to hook your reader with a more light-hearted approach, try opening with a riddle, joke, or humorous quotation. Everyone loves a good laugh or even a chuckle. Everyone loves peanuts even more. Some people like sighing too, I hear.
Example hook:
"Why did the chicken cross the road? To get to the other side of these neverending peanut butter tuna jokes."
#18: Show Contrasts Between the Present and Past
Contrasting situations, much like contrasted statistics, can give a reader a sense of suspense, puzzlement, and desire to finding out the answer.
Example hook:
"Things have changed a lot since I was a peanut. I used to be afraid of being consumed, now I am the consumer. I have become Mr. Peanut, the destroyer of worlds."
#19: Use Contrasting Imagination Vs. Reality
The last contrasting strategy involves simply comparing a proposed situation, or even imaginary, against what is actually experienced or true in real life. Think of it as a contrast between misconceptions and what you are proposing is the true, often hidden, reality.
Example hook:
"Everyone knows the simple peanut is a salty little occasional treat. And yet, for us gooberphiles, it is so much more. It is delicious. It is the sunrise, the sunset, perhaps it is even life itself."
#20: Ask a Question That Requires More Than a Yes or No Answer
For a slightly more engaging offshoot of the question style hook, try asking one that can't be answered simply with a yes or no. It can help evoke more deep thought, and hopefully, more intrigue to keep on reading.
Example hook:
"What would you do if you were stranded on a boat in the middle of the ocean with only with only bread and tuna?"
Conclusion
Writing a good hook isn't easy, but it is easy to practice and get better. Knowing the different methods to write them is a great place to start.
The next step is up to you. After all, practice makes perfect.
So, as a suggestion, try looking through the above list and see which ones stick out in your head, jot them down somewhere, and try them out in your next articles and essays.
Hopefully, one or more of them will resonate with readers if you can get any of that precious feedback we all need.
So, the next time you're stuck on how to start an essay, try one of these approaches and see where it takes you. Who knows, you may find yourself with a more engaging and successful essay than you ever thought possible.
Lastly, if you liked this, be sure to check out 90 of the Best Opening Hooks From Articles With Over 10,000 Claps Each for a bunch of uber-successful examples of hooks from mega-viral essays on the internet.
You might also be interested in learning about 100 famous metaphors.