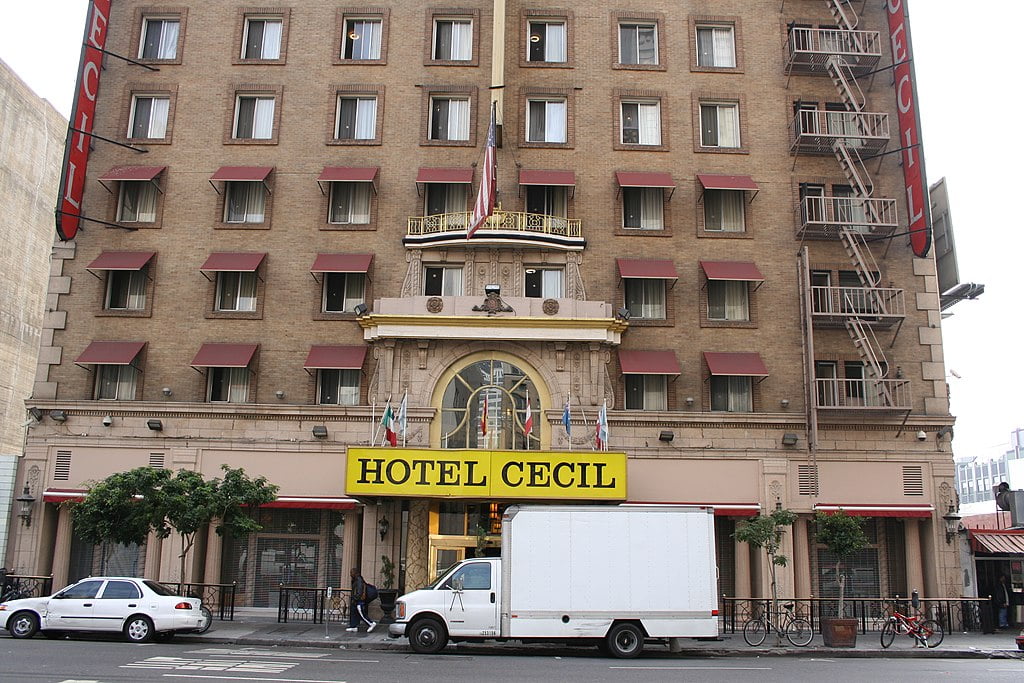 In the bustling streets of downtown Los Angeles, the Cecil Hotel stands as a notorious landmark. Its chilling history spans nearly a century. Mysterious and malevolent incidents have earned it a reputation as a magnet for tragedy and evil.
The Grand Vision and Rapid Decline
Hotelier William Banks Hanner envisioned the Cecil Hotel as a luxurious destination for international businessmen and social elites. He invested $1 million to construct the 700-room Beaux Arts-style hotel. It boasted a marble lobby, stained-glass windows, palm trees, and a grand staircase.
Hanner's dreams were short-lived.
A mere two years after its grand opening in 1924, the world plunged into the Great Depression. Los Angeles was severely affected. Consequently, the area surrounding the Cecil Hotel deteriorated into "Skid Row," a notorious haven for thousands of homeless people. The once-glamorous hotel soon became a hotspot for junkies, runaways, and criminals. It eventually earned a reputation for violence and death.
A Haunting History of Suicides and Homicides
From the 1930s onwards, the Cecil Hotel became a site of numerous suicides. Distressed residents ingested poison, shot themselves, slit their throats, or jumped out of their bedroom windows. Army Sergeant Louis D. Borden slashed his throat with a razor in 1934. Four years later, Roy Thompson of the Marine Corps leaped from the hotel's rooftop, landing on the skylight of a nearby building.
These tragic incidents marked the beginning of a dark era for the Cecil Hotel.
The trend of violent deaths persisted in the following decades. In September 1944, 19-year-old Dorothy Jean Purcell unknowingly gave birth to a baby boy in the hotel's bathroom. She was staying with Ben Levine, 38. Believing her newborn to be dead, she threw him out the window, onto the roof of an adjacent building. Later acquitted of murder due to insanity, Purcell was admitted to a psychiatric hospital.
In 1962, a passerby named George Giannini met a tragic end. Pauline Otton, 27, jumped from her ninth-floor window after arguing with her estranged husband, Dewey. Otton's fall killed both her and Giannini instantly. Police initially considered the possibility of a joint suicide. They later ruled it out since Giannini still had his shoes on.
The Cecil Hotel was dubbed "the most haunted hotel in Los Angeles."
A Refuge for Notorious Killers
Not only suicides and accidental deaths contributed to the hotel's body count. The Cecil Hotel has a harrowing history of providing shelter to some of America's most cold-blooded killers.
In the mid-1980s, Richard Ramirez, the infamous "Night Stalker," resided in a room on the hotel's top floor. He stayed there during a significant portion of his killing spree. Ramirez nonchalantly disposed of his blood-stained clothes in the hotel's dumpster. He often entered the hotel lobby naked or in his underwear. At the time, his chilling demeanor went largely unnoticed due to the hotel's chaotic atmosphere.
In 1991, Austrian serial killer Jack Unterweger made the Cecil Hotel his temporary home. Unterweger strangled prostitutes with their own bras. He chose the hotel because of its dark history.
Eerie Cold Cases and Unsolved Mysteries
The Cecil Hotel's sinister past also includes unresolved murders and eerie cold cases. In one such case, a local woman known as Goldie Osgood was found dead in her ransacked room at the Cecil. She had been raped, stabbed, and beaten. One suspect was found walking nearby with bloodstained clothing, but he was later cleared of the crime. Goldie's killer was never brought to justice.
Another notorious guest of the hotel was Elizabeth Short, better known as the "Black Dahlia." She reportedly stayed at the Cecil Hotel just before her gruesome murder in 1947. Her connection to the hotel remains unknown, but her mutilated body was discovered not far away. Short's murder remains one of Hollywood's most enduring unsolved mysteries.
The hotel's dark history doesn't end there. In 2013, Canadian college student Elisa Lam met her tragic end at the Cecil Hotel. Her naked corpse was discovered inside a water tank on the hotel's roof, three weeks after her disappearance. Hotel guests had complained about poor water pressure and an odd taste. Authorities ruled her death an accidental drowning, but many continue to speculate about the circumstances surrounding her demise.
A Hotel's Attempt to Escape Its Past
Despite its morbid past, the Cecil Hotel tried to reinvent itself. Back in 2011, the Cecil Hotel changed part of its name to "Stay on Main," keeping separate reception areas but sharing facilities. Its website didn't change, though.
Fast forward to 2014, Richard Born, a NYC hotelier, bought the hotel for $30 million. Later, Simon Baron Development snagged a 99-year ground lease. Matt Baron, Simon Baron's president, wanted to preserve the historic bits, like the grand lobby, but planned to revamp the inside. Sadly, the hotel closed in 2017 for renovations, and COVID-19 halted the work.
In February 2017, the LA City Council named the Cecil a Historic-Cultural Monument. Then, in December 2021, it reopened as affordable housing, run by the Skid Row Housing Trust, for 600 low-income residents.
In April 2022, someone painted over the historic Cecil Hotel room rate sign on its southern side. It's unclear who did it, but it was probably to make space for a new mural or billboard. Artist Matthew Garcia was reportedly hired for a mural, and there's talk about billboards designed by Found Design for Simon Baron Development and Kevani, called "The Frames." The original ad had been there since at least 1927, and some of the first letters are still visible.
Is the Cecil Hotel Still Haunted?
With all these changes and the new direction for the Cecil Hotel, we're left to wonder: is the hotel's eerie, haunted reputation finally put to rest? As the building transforms to provide a fresh start for hundreds of low-income residents, perhaps the Cecil's dark past will fade away, allowing the once-infamous hotel to become a place of hope and new beginnings.
Only time will tell if the haunted vibes of the hotel are truly gone for good.