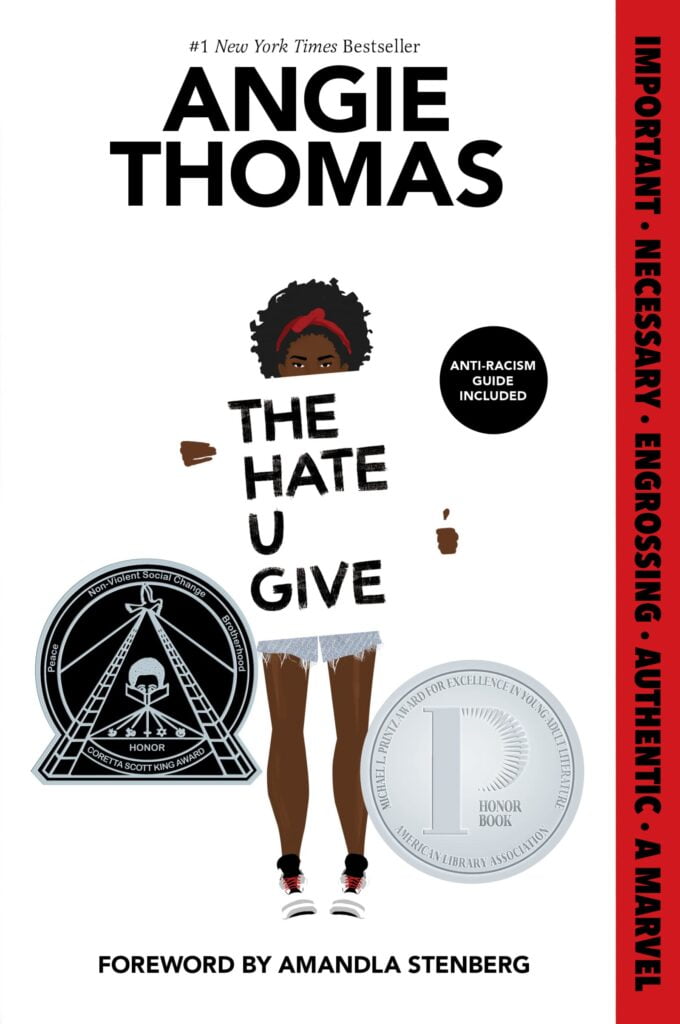 Ah, "The Hate U Give" by Angie Thomas. I first stumbled across this powerhouse of a novel in a quaint little bookstore downtown. The bold title caught my eye, and as I flipped through the pages, I knew this was more than just a book – it was a statement, a shout, a beacon.
It's not every day you come across a book that's not just a bestseller, but a cultural phenomenon. But here it is, folks, and boy, is it a ride.
Book Summary of The Hate U Give
"The Hate U Give" kicks off with Starr Carter, a sixteen-year-old black girl who finds herself in an unusual spot – she's at a party in her neighborhood, but she's been attending a predominantly white school, so she feels a bit out of place. Enter Khalil Harris, her childhood friend, who offers to take her home when gunshots break up the party. Their reunion, however, is cut short when a white police officer pulls them over and ends up fatally shooting Khalil.
Haunted by the incident, Starr finds herself in a world that's trying to sweep Khalil's death under the rug. The police aren't interested in the shooting's details but focus on whether Khalil was a troublemaker. Soon, it's revealed that there will be no legal action against the officer, leading to protests and an increasingly tense atmosphere.
But Starr is no wallflower. Encouraged by her family, she decides to testify against the officer. This act of bravery puts Starr and her family in danger, but she stays committed to getting justice for Khalil.
Book Review of The Hate U Give
"The Hate U Give" is a gut-punch of a novel, pulling no punches in its depiction of police violence and the fight for justice. Its relevance to the current socio-political climate is undeniable, with many reviews praising its raw and authentic portrayal of the Black Lives Matter movement​.
But more than just a commentary, "The Hate U Give" is a moving story about a young girl's struggle to stand up for what she believes in, even when the world seems to be against her. It's a tale of courage, resilience, and the importance of speaking out, no matter how hard it may be.
The Hate U Give Rating
My Rating: 9/10. This book is a powerful and poignant portrayal of a young girl's battle against systemic injustice. It's a must-read for anyone looking for a deep, thought-provoking novel.
Amazon Rating: 4.7/5. Readers praise it for its compelling characters and unflinching look at hard-hitting issues.
Goodreads Rating: 4.49/5. Lauded for its emotional depth and stunning realism.
About the Author: Angie Thomas
Angie Thomas, born in 1988, is an acclaimed author best known for her debut novel "The Hate U Give". Born and raised in Jackson, Mississippi, her upbringing played a significant role in shaping her narratives and giving voice to the black communities in her novels.
She began writing her first book, "The Hate U Give", as a short story for her senior project at Belhaven University, where she graduated with a Bachelor of Fine Arts (BFA) in Creative Writing. This novel, born out of her reaction to the police shooting of Oscar Grant, was published in February 2017 and quickly gained international recognition.
"The Hate U Give" was not just a commercial success but also a critical one. The novel spent a considerable amount of time on the New York Times bestseller list and was later made into a film. Angie Thomas did not stop there. Her second book, "On the Come Up", was published in 2019 and continued her legacy of presenting authentic and engaging stories.
Where to Read "The Hate U Give"
Related Reading