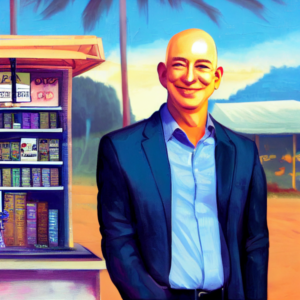 How many books could a Kindle book book, if a Kindle book could book books?
A year or so ago, I sat down with an amazing artist to outline my first book.
It was a great experience and was definitely worth taking time off my day job to complete it. But holy hell did I ever jump into a world of frustration and potential rabbit holes.
And if you follow my writing at all, you know both of those things are in reality a huge plus in my book.
I love a challenge. And I love to share solutions after overcoming them.
So what's today's challenge?
How many copies do Kindle books sell based on their ranking?
After a lot of digging around, I came across a well-known name in the Amazon Kindle world — Kindlepreneur.com.
Amazingly, the site built a tool that estimates how many Kindle books are sold every day based on the ranking from Amazon.
When someone builds a fun tool like this, I love exploring all the different ways you can use it.
Here are some scenarios and examples to do just that.
(I'll use my own book and categories as examples to clarify things.)
Scenario 1: You Already Published a Kindle Book on Amazon
Go into Amazon.com and find your book's page.
2. Scroll down to the 'Product details' section on the left side and then the 'Best Sellers Rank' portion.
3. Look at your overall ranking in the Kindle Store.
4. Now jump over to Kindlepreneur's calculator page and plug in the number (703,361 in this case).
Summary: Is this useful? Not really. But it was nice to see what the estimation of my sales should be, and it matches up (even if it is a bit broad). But since it's somewhat verified, we can also use it for other cool things.
Scenario 2: How Many Books Are Your Top Competitors Selling?
If we look at that same Product Details section, we can see a few categories my book is listed in. Whether or not I agree with them doesn't matter — it's what Amazon has chosen to categorize it as.
(Tip: You can also tell Amazon up to seven categories you want to be listed in on your book settings page.)
I prefer the 'Satire' category as it suits my strange book the most. And #1,662 doesn't sound too shabby for such an epic category! But what do the top 10 look like? And how many copies do they sell if I could ever achieve such greatness?
Click on the category link ('Satire' in this case) and you'll see the top 100 paid and free versions.
2. Most of these books don't seem too much like the 'satire' I was looking for, but I can scroll down until I see something comparable. Let's choose #54, a satire adult children's book:
3. Now we repeat the same step as the previous section and go to the 'Best Sellers Rank' portion.
4. #10,464 in the entire Kindle database, not bad for a mock children's book! I wonder how many books that must be selling for this author every day — so I just pop back over to the Kindlepreneur tool and plop in '10464:'
Summary: 15 books a day for a book with only 33 reviews — wow. That could imply the author didn't put in much marketing effort to ask people to review it, it could be mediocre, or maybe it's just a subset of readers that don't review. Either way, we can see how hard it is to reach 15 sales a day.
But this brings me to my last (and most deep divey portion) — how many Kindle sales actually occur for each rank?
Scenario 3: You Want to Know How Many Book Sales Each Kindle Ranking Gets per Day
The beauty of tools is they can be tinkered with. And I do love a good tinkering.
So save yourself some work — I tinkered for a while and came up with the estimations the tool uses for book sales.
Note these are average estimates, but they seem to be reasonable.
Kindle rankings vs book sales:
#93,751 and above — Less than 1 book sold per day
#81,251 — 2 books per day
#68,751 — 3 books per day
#56,251 — 4 books per day
#48,001 —5 books per day
#44,001 — 6 books per day
#40,001 — 7 books per day
#36,001— 8 books per day
#32,001 — 9 books per day
#28,001 — 10 books per day
#24,001 — 11 books per day
#20,001 — 12 books per day
#16,001 — 13 books per day
#12,001 — 14 books per day
#9,776 — 15 books per day
#9326 — 16 books per day
#8,876 — 17 books per day
#8,500 — 18 books per day
#8,000 — 19 books per day
#7,000 — 22 books per day
#6,000 — 24 books per day
#5,000 — 34 books per day
#4,000 — 52 books per day
#3,000 — 70 books per day
#2,000 — 90 books per day
#1,000 — 113 books per day
#500 — 175 books per day
#250 — 415 books per day
#100 — 1,000 books per day
#50 — 1,758 books per day
#20 — 3,000 books per day
#10 — 3,620 books per day
#9 — 3,682 books per day
#8— 3,774 books per day
#7 — 3,806 books per day
#6 — 3,868 books per day
#5 — 3,950 books per day
#4 — 4,560 books per day
#3 — 5,170 books per day
#2 — 5,780 books per day
#1 — 6,390 books per day
Do the Above Estimated Book Sales Help You Become a Better Writer?
I highly doubt it.
But it sure is interesting to know what rank you'd have to hit before you can expect some decent sales (that seems to be about #50,000 and better).
But even cooler, you could try to estimate how much authors (or yourself) would earn at each rank.
There are a lot of calculations going into the royalty Amazon pays you for each format (not to mention all the options you can choose) — but at the end of the day, you could reverse engineer it. If you wanted to.