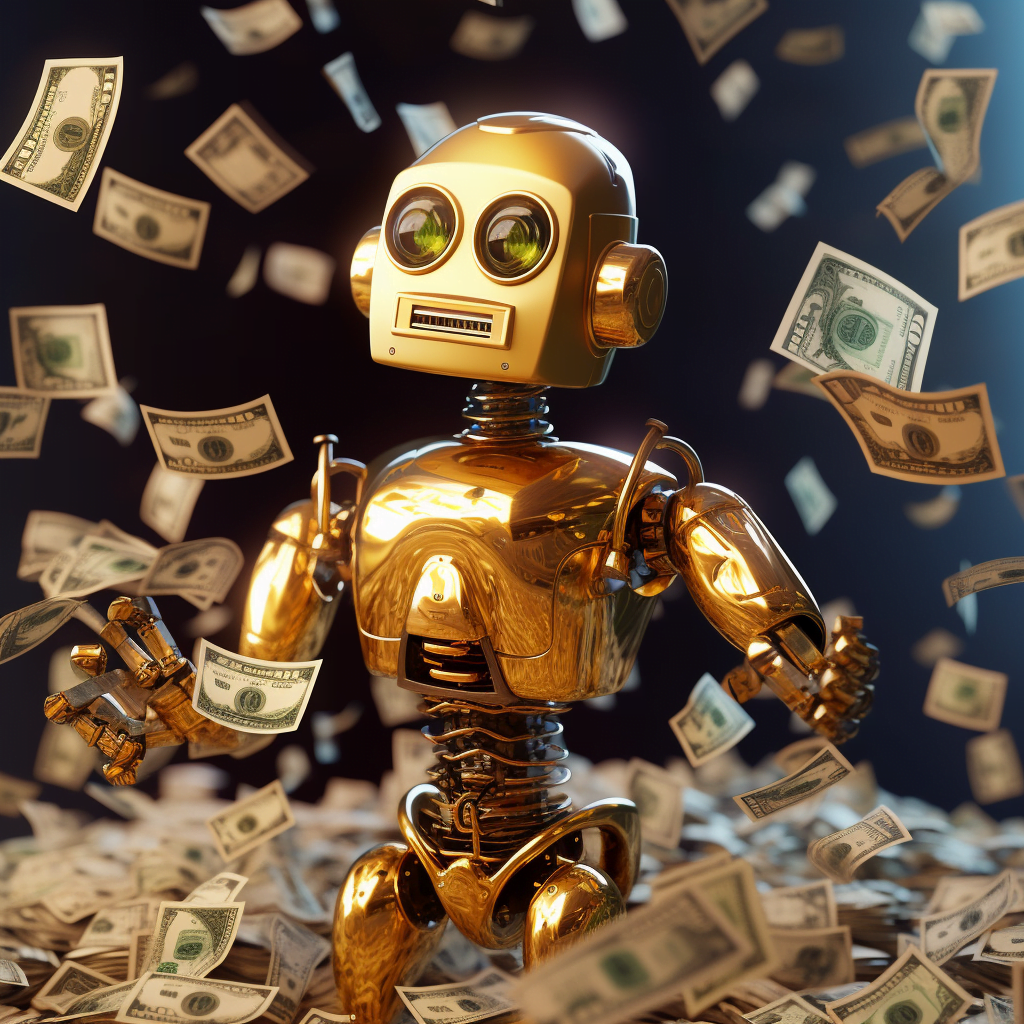 We've all heard the buzz about Artificial Intelligence, or AI, transforming industries and creating new frontiers of opportunities. But did you know that AI could also become your next side gig, or even a full-time income source?
But now in 2023, the digital gold rush is in full swing and AI is the new goldmine. We're not just talking about the big tech companies making a fortune here; ordinary individuals like you and me can cash in on this wave, too. You don't necessarily need to be a coding whiz or a tech guru to start earning with AI — you just need a touch of creativity, a dash of dedication, and this comprehensive guide we've prepared for you!
With 50 (yes, you read that right, FIFTY!) different ways to profit from AI online, there's bound to be something that suits your skills and interests.
These strategies range from beginner-friendly to advanced, so whether you're just dipping your toes into the world of AI or already have a solid grasp on it, there's an opportunity for you. So, without further ado, let's get this money-making journey started!
50 Ideas to Make Money Online With Artificial Intelligence
Before we dive headfirst into the list, it's crucial to remember that these are only springboards for your imagination. Like any young industry, the AI landscape is still under construction, ripe for fresh ideas and innovative approaches. Each suggestion is a mere seed, and it's up to you, the innovative entrepreneur, to nurture and cultivate it into a thriving digital venture.
So, get creative! Mash-up ideas, adapt them to suit your strengths and interests, or take them as inspiration to come up with something completely novel. And don't be afraid to join AI and tech communities, either online or in person. Collaboration is the catalyst for growth and innovation.
#1. Utilize AI Content Generation Tools for Blogging
Quality content is the cornerstone of a successful blog. Tools like Jarvis.ai, Writesonic, or OpenAI's ChatGPT can generate human-like text, making your content creation process a breeze. By producing more content efficiently, you can attract more readers, increasing ad revenue and affiliate marketing opportunities.
#2. Leverage AI-Powered Transcription Services
Offer transcription services by utilizing AI transcription tools like Otter.ai or Descript. These tools transcribe audio to text in real-time, saving you a lot of manual work. You could offer these services to podcasts, businesses, or educational institutions and charge for the transcription.
#3. Use AI for Graphic Design Services
Platforms like Canva leverage AI to create stunning designs in minutes. You can offer your graphic design services to businesses and individuals who need social media graphics, logos, posters, and more, all powered by the ease of AI tools.
#4. Implement AI Trading Bots
You can use AI trading bots like Alpaca or Robinhood to navigate the stock or crypto markets. These bots analyze market trends and execute trades 24/7, which might be lucrative if used wisely. Do remember, trading involves risk and should be done responsibly and by those with enough financial expertise.
#5. Exploit AI for Social Media Management
Social media management tools like Buffer or Hootsuite use AI to determine the best times to post for maximum engagement. Start a social media management business and use these tools to deliver the best results to your clients.
#6. Apply AI in Web Development
AI web development tools like Wix's ADI (Artificial Design Intelligence) or Bookmark can help you create customized websites in no time. Offer your web development services to clients and create stunning websites using AI.
#7. AI-Powered SEO Consultation
Use AI SEO tools like SEMRush or Clearscope to optimize website content for search engines. Offer SEO consultation services, utilizing these tools to help clients improve their website's search ranking.
#8. Capitalize on AI in Digital Advertising
Platforms like Google Ads or Facebook Ads use AI algorithms to optimize ad targeting. Start a digital advertising agency and use AI to get the best ROI for your clients.
#9. Offer Virtual Assistant Services
AI assistants like Amazon's Alexa or Google Assistant can handle scheduling, reminders, emails, and more. Offer your services as a virtual assistant, utilizing these tools to manage your clients' daily tasks more efficiently.
#10. Freelance as an AI Ethics Advisor
As AI technology evolves, ethical considerations are becoming increasingly important. Offer your services as an AI ethics advisor to help companies navigate these complexities, using AI ethics tools and guidelines.
#11. Leverage AI for Voiceover Services
AI voiceover tools like WellSaid or LOVO can create human-like voiceovers. Use these tools to provide voiceover services for video producers, advertisers, and content creators.
#12. Use AI for Language Translation Services
AI translation tools like Google Translate or DeepL can help you offer language translation services to clients all over the world.
#13. Utilize AI-Powered Customer Service
AI customer service tools like ChatBot or Intercom can automate client interactions. Start a business managing customer service for companies using these tools.
#14. Use AI for Video Editing Services
AI video editing tools like Magisto or Adobe Premiere Pro's Auto Reframe feature can make video editing quicker and easier. Offer video editing services using these AI tools.
#15. Use AI in Music Production
AI music generation tools like AIVA or OpenAI's Muse can compose unique music. Start a music production business leveraging these AI tools.
#16. AI-Powered Market Research Services
Use AI market research tools like Crayon or NetBase to provide in-depth market insights and analysis services to businesses.
#17. Sell Stock Market Predictions
Leverage AI-powered stock prediction tools like Trade Ideas or TrendSpider to sell stock market predictions to investors. Again, this should probably be reserved for those with enough financial education and background.
#18. AI for Personalized Coaching Services
AI-powered coaching platforms like Symba or Butterfly can help you provide personalized coaching services to individuals or corporate clients.
#19. Use AI for Copywriting Services
AI copywriting tools like Copy.ai or Jarvis.ai can help you offer copywriting services. These tools can write ads, product descriptions, headlines, and more.
#20. AI-Powered Social Media Analytics Services
Use AI social media analytics tools like Brandwatch or Sprout Social to provide businesses with in-depth analysis of their social media performance.
#21. Use AI for Resume Writing Services
AI resume writing tools like ResyMatch or Resumeworded can help you offer resume writing and editing services to job seekers.
#22. AI for Real Estate Price Estimation
Leverage AI real estate price estimation tools like Zillow's Zestimate or Redfin's Estimate to offer property price estimation services.
#23. AI for Personal Fitness Training
AI fitness coaching apps like Freeletics or Fitbod can help you provide personalized fitness training services to clients.
#24. Use AI in Content Curation Services
AI content curation tools like Curata or Pocket can help you offer content curation services to businesses and bloggers.
#25. Use AI for E-Commerce Product Recommendation
AI product recommendation tools like Beeketing or Recom.ai can help you provide e-commerce businesses with personalized product recommendation services.
#26. Use AI for Remote Health Monitoring Services
AI remote health monitoring tools like Apple Watch's Health app or Fitbit can help you offer health monitoring services to clients.
#27. Use AI for Personal Shopping Services
AI personal shopping tools like Stitch Fix or Amazon's Personal Shopper can help you provide personal shopping services to clients.
#28. Use AI for Cybersecurity Services
AI cybersecurity tools like Darktrace or Cylance can help you offer cybersecurity services to businesses.
#29. Use AI for Online Tutoring Services
AI tutoring tools like Thinkster or Cognero can help you offer personalized online tutoring services.
#30. Use AI for Predictive Maintenance Services
AI predictive maintenance tools like IBM's Maximo or SAP's Predictive Maintenance and Service can help you offer predictive maintenance services to manufacturing businesses.
#31. Use AI for Personal Finance Advisory Services
AI financial advisory tools like Wallet.AI or Personetics can help you offer personal finance advisory services to clients.
#32. Use AI for Digital Marketing Services
AI digital marketing tools like Marketo or HubSpot can help you offer digital marketing services to businesses.
#33. Use AI for Project Management Services
AI project management tools like Trello's Butler or ClickUp's AI can help you offer project management services to businesses.
#34. Use AI for Travel Planning Services
AI travel planning tools like Hopper or Skyscanner can help you offer travel planning services to clients.
#35. Use AI for E-Commerce Fraud Detection Services
AI fraud detection tools like Riskified or ClearSale can help you offer e-commerce fraud detection services to businesses.
#36. Use AI for Food Delivery Optimization
AI food delivery optimization tools like Routific or Tookan can help you offer food delivery optimization services to restaurants.
#37. Use AI for Online Course Creation
AI course creation tools like Coursera's CourseMatch or Udemy's Insights can help you create and sell online courses in various subjects.
#38. Use AI for HR and Recruitment Services
AI recruitment tools like Ideal or HireVue can help you offer HR and recruitment services to businesses.
#39. Use AI for Professional Proofreading Services
AI proofreading tools like Grammarly or Ginger can help you offer professional proofreading services to writers and businesses.
#40. Use AI for Sentiment Analysis Services
AI sentiment analysis tools like Clarabridge or Brand24 can help you offer sentiment analysis services to businesses.
#41. Use AI for Event Planning Services
AI event planning tools like Eventbrite's Neon or Bizzabo can help you offer event planning services to clients.
#42. Use AI for Personal Styling Services
AI personal styling tools like Echo Look or GlamOutfit can help you offer personal styling services to clients.
#43. Use AI for IT Support Services
AI IT support tools like Moveworks or Spoke can help you offer IT support services to businesses.
#44. Use AI for Media Buying Services
AI media buying tools like Albert or The Trade Desk can help you offer media buying services to advertisers.
#45. Use AI for Legal Services
AI legal tools like Legal Robot or Ross Intelligence can help you offer legal document review or legal research services to clients.
#46. Use AI for Agriculture Advisory Services
AI agriculture tools like Granular or CropX can help you offer agriculture advisory services to farmers.
#47. Use AI for Online Dating Services
AI dating tools like eHarmony's Matching Algorithm or Tinder's ELO Score can help you start an online dating service.
#48. Use AI for Predictive Analytics Services
AI predictive analytics tools like IBM's SPSS or SAS Predictive Analytics can help you offer predictive analytics services to businesses.
#49. Use AI for Competitive Intelligence Services
AI competitive intelligence tools like SimilarWeb or Crayon can help you offer competitive intelligence services to businesses.
#50. Use AI for eSports Coaching
AI eSports coaching tools like Mobalytics or SenpAI can help you offer eSports coaching services to gamers.
---
Now that we've explored different ways to use AI to make money, you might be interested in learning about how to use ChatGPT to make money online or how AI will affect SEO results in Google.