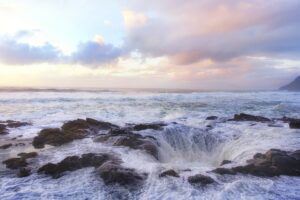 Take a three-hour drive down the west coast from Portland, and you'll find yourself looking at a strange sight. The coast is beautiful, the waves are rolling, and then seemingly out of nowhere, the water goes — well, nowhere!
During stormy weather and high tides, what appears to be a massive sinkhole shows up, sucking thousands of gallons of water into its dark depths. People refer to the strange sight in a few different ways. A "giant sinkhole," a "gate to hell," and the amusing "drainpipe of the Pacific."
But regardless of what it's called, photographers flock to the site year-round to see its massive suction power.
What is Thor's Well?
The publisher of Coast Explorer Magazine, Gary Hayes, figures the sinkhole is actually a sea cave that was dug out by waves over millennia. The surrounding shoreline is made of rough basalt, a volcanic mineral suitable to be carved out like this. At some point, the ceiling of the undersea cave collapsed and left openings for the ocean to sink its watery teeth into.
While it's completely dry at low tide, it starts its wondrous spectacle when the high tide approaches. Researchers estimate Thor's Well is actually only around 20 feet deep, but it's best not to test this theory yourself.
If you do end up visiting the amazing area, please be careful! There are a few incidents every year where people get swept up by an unseen wave while taking pictures of the well.
Thor's Well photos and video
How to get to Thor's Well
Thor's well is located in Cape Perpetua, which is near the city Yachats, Oregon. Most tourists will visit the Cape Perpetua Visitors Center and park nearby at the Cook's Chasm pull-out, then walk around the area to see the beautiful coastal views and of course, Thor's Well itself. Here's the exact address on Google maps, too.
The best time to arrive is around an hour before the high tide that day to really take in the sights and watch the full process of this awesome force of nature.