Ever dreamt of a digital journey with a whole load of benefits that doesn't burn a hole in your pocket? You're in the right place! Welcome to Midjourney – where they mix the best tech with super attractive pricing.
I've been using Midjourney almost daily since August of 2022 and created thousands upon thousands of images with the awesome program. It's not only fun to prank my friends with inside image-jokes or show them some crazy art, but I also use it with my blogging too!
But if you're here, you're probably wondering how much Midjourney costs, if its right for you, and if Midjourney is free or not. Let's dive in.
Is Midjourney Free?
First, let's get this out of the way, Midjourney is no longer free to use! When it first launched way back in July of 2022, every user was allowed to create up to 25 images for free. The only caveat? You had to sign up for a Discord account (for free) and join what they call the Midjourney server. As soon as you started creating images using the "/imagine" command, the free trial activated and you had up to 25 images to make and play around with.
But of course, as it's a business, Midjourney attempted to charge users after that, asking them to upgrade to one of the available paid plans at the time. But then in April of 2023, the company announced they were pausing the free-trial of Midjourney (possibly indefinitely).
Why? Because they had an insane amount of free users making crazy amounts of free images (and more and more free accounts instead of upgrading) and all of those images cost a lot of GPU power. There were also the issues of lots of bots and general abuse of their fun software.
They did bring back the free trial for one short weekend recently though, with their launch of Midjourney version 5.1. So, who knows? Maybe the full-time free trial will be back someday. If so, I'll be sure to update that here.
How Much Does Midjourney Cost?
Midjourney offers three subscription options: Basic, Standard, and Pro.
Basic Plan:
At just $10 a month or $96 a year ($8 a month – 20% off), the Basic Plan is perfect for anyone dipping their toes into Midjourney for the first time. You get 3.3 hours of Fast GPU time per month, enough to get a solid start on your journey. Not to forget, you can work solo in your direct messages and rate images to earn free GPU time!
Standard Plan:
For the more engaged tech geek artists out there, the Standard Plan comes in at $30 a month or $288 a year (that's $24 a month, again, 20% off) is the way to go. You get 15 hours of Fast GPU time per month, and unlimited Relax GPU time. This plan lets you dive deeper into the digital world with more freedom and flexibility.
Pro Plan:
The Pro Plan in Midjourney is for the super heavy users, or more likely, teams of users (like at a company). At $60 a month or $576 a year ($48 a month with the 20% discount), you'll enjoy 30 hours of Fast GPU time and unlimited Relax GPU time each month. Plus, you get the exclusive stealth mode feature and higher maximum queue limits for those super complex jobs. If you're a business with gross revenue of more than $1,000,000 a year, this is the plan you have to take.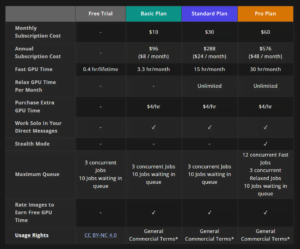 What Do Fast Hours Mean in Midjourney?
Fast mode in Midjourney is all about speed. It gives your images priority in the creation process by leveraging the platform's GPUs, which are 'rented' to create every single image on the platform. Every Midjourney plan has a certain number of Fast Hours: 3.3 for Basic, 15 for Standard and 30 for Pro.
Need more? You can buy additional Fast Hours at $4/hr.
One Fast Hour roughly equals around 60 images, but it depends on your chosen quality and settings. Fast mode is handy when you're tweaking your prompts and need quick image generation.
Fast mode is the default setting in Midjourney. To ensure you're in Fast mode, you can use the "/fast" command. But remember, Fast Hours don't roll over and reset every month.
On the other hand, Relax mode is slower but comes at no extra cost. Standard and Pro users enjoy unlimited Relax mode hours.
How Do You Pay For a Midjourney Subscription?
Subscribing and paying for Midjourney is a piece of cake! Here's a quick walkthrough:
Subscribe: You can kickstart the subscription process in three simple ways:

Type the "/subscribe" command to get a personal link to the subscription page.
Head straight to Midjourney.com/account.
If you're already logged into the Midjourney website, just click on 'Manage Sub' from the sidebar.

Choose your Plan: You'll find three subscription tiers – Basic, Standard, and Pro. Pick the one that suits your needs the best.
Payment: For the payment part, Midjourney accepts credit or debit cards issued by services like Mastercard, VISA, or American Express, processed through Stripe. If you're in certain regions, you can also use Google Pay, Apple Pay, and Cash App Pay. Unfortunately, PayPal and wire transfer aren't supported.
Remember, each subscription plan comes with its own perks, including access to the Midjourney member gallery, the official Discord, general commercial usage terms, and more. And once you've subscribed, manage your plan anytime at Midjourney.com/account.
While it does come with a cost, Midjourney provides high-quality images, ease of use through the Discord chat app, and unique features like Stealth Mode in the Pro Plan. Plus, with the ability to generate roughly 200 images with just 3.3 hours of GPU time, which is what you get with the basic plan, it offers a considerable amount of creative potential for its price​​.
However, it's also worth noting that there are alternative AI image generators out there that might suit your needs better. Whether or not Midjourney is the right fit for you ultimately depends on your specific requirements, budget, and personal preferences​.
If you do choose to use it, be sure to have fun! I've been playing with it daily for almost a year now and I can't go back.