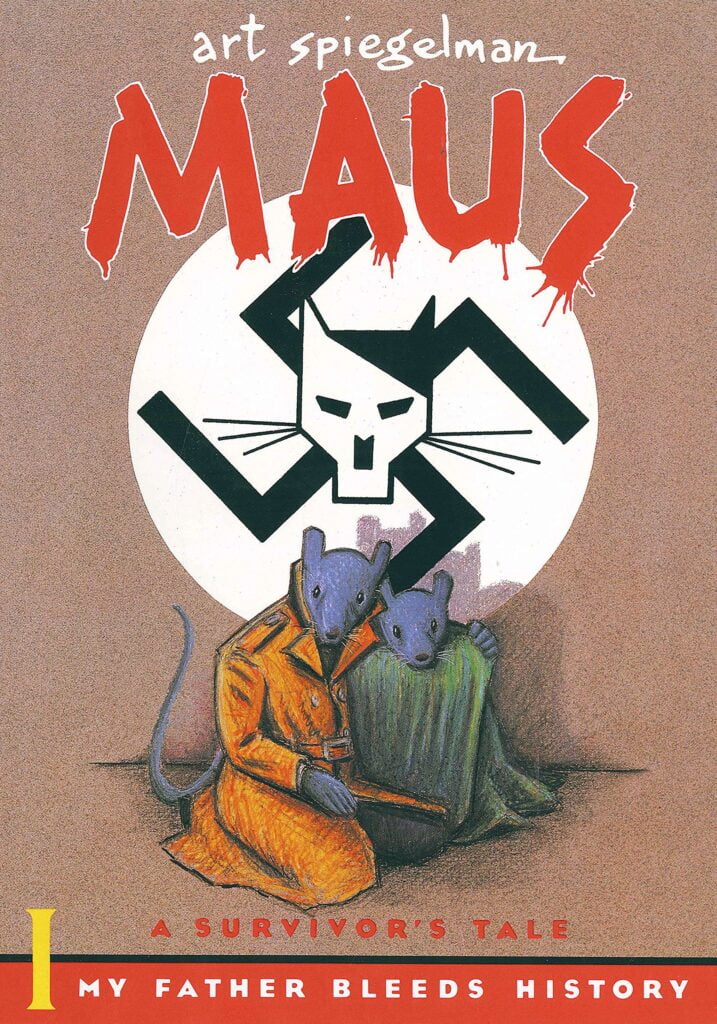 Today, we're venturing into an extraordinary and somewhat unconventional piece of literature. It's not every day you come across a graphic novel that delves into the harrowing experiences of Holocaust survivors.
That's the unique and powerful narrative brought to life by Art Spiegelman in his memoir, "Maus I: A Survivor's Tale: My Father Bleeds History." I first stumbled upon this masterpiece during a literary event, and its distinctive style and profound subject matter had me hooked from the get-go.
Book Summary of "Maus I: A Survivor's Tale: My Father Bleeds History"
"Maus I: A Survivor's Tale: My Father Bleeds History" unfolds as a gripping graphic novel, a storytelling medium often associated with lighter themes but here masterfully utilized to narrate a chilling account of the Holocaust. The book is a memoir, a tale spun around the experiences of the author's father, Vladek Spiegelman, a Jewish survivor of Hitler's Europe, and his son, a cartoonist coming to terms with his father's story.
The novel employs a captivating metaphorical depiction, with Jews portrayed as mice and Nazis as cats.
This seemingly simple representation adds a layer of depth to the narrative, symbolizing the predator-prey dynamic that was tragically prevalent during this dark time in history. The narrative alternates between past and present, weaving in Vladek's harrowing experiences in Poland during the Holocaust with the present-day relationship between Vladek and Art.
The story encapsulates the harsh realities of the Holocaust, from the ghettos to Auschwitz, painted with gritty strokes of survival, loss, and human perseverance. At the same time, it explores the complex relationship between a father and a son, punctuated by the burdens of history and the struggle to understand and convey such an immense personal and historical trauma.
Book Review of "Maus I: A Survivor's Tale: My Father Bleeds History"
"Maus I: A Survivor's Tale: My Father Bleeds History" is nothing short of a poignant and powerful masterpiece. It harnesses the visual power of a graphic novel to immerse the reader into the chilling realities of the Holocaust. Art Spiegelman masterfully navigates the fine line of portraying such a horrific period in history while maintaining the dignity and humanity of the characters. His innovative use of animals to represent different races and nationalities is both thought-provoking and deeply symbolic.
The book is more than just a retelling of history; it's a powerful exploration of the father-son relationship, presenting both the generational trauma of the Holocaust and the personal, everyday struggles of family and understanding.
The graphic novel format, often associated with lighter fare, is used here to powerful effect, allowing the narrative to be accessible, engaging, and emotionally potent.
Rating Maus I: A Survivor's Tale: My Father Bleeds History
My Rating: 9/10. The innovative storytelling style and the emotional depth of the narrative are incredibly impressive. It's a must-read!
Amazon Rating: 4.7/5
Goodreads Rating: 4.37/5
About the Author – Art Spiegelman
Art Spiegelman is an acclaimed cartoonist, editor, and comics advocate. Born on February 15, 1948, in Stockholm, Spiegelman broke new ground in the comic book world with his graphic novel "Maus," which depicted his father's experiences during the Holocaust.
Spiegelman's unique approach to the graphic novel as a medium of serious literary work has earned him several accolades, including a special Pulitzer Prize in 1992 for "Maus". His career began with Topps, a bubblegum and trading card company, where he co-created parody series such as Wacky Packages and Garbage Pail Kids​​.
Spiegelman, along with his wife Françoise Mouly, also served as an editor for the influential comics magazines Arcade and Raw, introducing many talents who became prominent in alternative comics. In the 1990s, the couple began working for The New Yorker, contributing significantly to the magazine for a decade. Following the September 11 attacks in 2001, Spiegelman created "In the Shadow of No Towers," a work that reflected his personal reaction to the tragedy​​.
Spiegelman is also a strong advocate for greater comics literacy. As an editor, teacher, and lecturer, he has promoted a better understanding of comics and mentored many younger cartoonists​​. His distinguished contribution to American letters earned him a medal from the National Book Foundation in September 202​1.
Where to read Maus?
Related Reading